A NEW CHAPTER ADDED EVERY DAY
HELLO, NEW READERS! If you've joined us from the Focus on the Family website, go directly to BOOK TWO by clicking above. RISKING DAYLIGHT'S second novel is ready for you! I will add new episodes for you every day.
Welcome to the LIGHTNING LIBRARY. Our latest novel is RISKING DAYLIGHT, an adventure fiction novel about the end times of the world as told in the Bible.

Have you been searching for Christian adventure novels for yourself or your children? I am often approached by people who ask if I might be able to either write or recommend certain types of Christian reading. Whether it's bedtime stories, teen adventure novels, or allegories, there seems to be a need for some enjoyable, easily accessible Christian reading.
Well, guess what. I decided to start a library...online.
After months of gathering stories, editing and assembling this web site, I am happy to introduce to you the LIGHTNING LIBRARY, a resource of free reading for your family. If you have a printer, just print out the stories you like. Some are serialized and others are complete within the page. This is for your family's enjoyment. Walk through the library and pick 'n choose what you want!

Oscar and I want you to enjoy the reading offered by the many stories made available to you.

Again, thanks for stopping by the library!

- Brad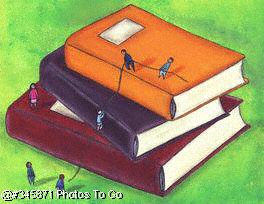 Your LIGHTNING LIBRARIANS are
OSCAR HYDE of Shipham, Somerset, UK
and
BRAD ZOCKOLL of Knoxville Tennessee USA

WELCOME TO THE LIGHTNING LIBRARY
THE LIGHTNING LIBRARY MISSION:

To provide encouraging, thought-provoking, exciting Christian literature that is fresh and enjoyable.

To make all literature in the Library free of charge as a ministry to Christian families everywhere.